"The blankets look fabulous!! Thank you so much for your help!" – Diana M., Alpharetta, GA

"Thanks so much for all your work. The embroidery looks gorgeous!" – Shane S., Aspen, CO

"Beautifully done, very high-quality materials and workmanship. We're delighted!" – Deb L., Wilton, CT

"It was a real pleasure working with your company. No surprises!" – Susan P., Ames, IA

---
"I cannot thank you enough for your professional and helpful manner." – Dave L., Santa Barbara, CA

"We received the fleece and it looks TERRIFIC!! The blankets are so cozy and I'm sure they'll be a hit." – Jim W., Delray Beach, FL

"Thank you so much for the prompt and helpful service!" – Nancy M., Mesa, AZ

"I love doing business with you. Just wanted you to know that the blankets look absolutely great!" – Lakeesha Y., Bar Harbor, ME

---
"Just wanted to let you know the blankets look great! Thanks for all your help." – Ilsa B., Bellingham, WA

"Thank you for your help and patience! It was a pleasure to work with you." – Marci S., Ann Harbor, MI

"I love the fleece throws! They monogram very nicely. Thanks for being so helpful." – Cecilia Q., Denton, TX

"Thanks so much – they look great! Look forward to working with you again!" – Jill N., Falls City, NE

How does our fleece stack up?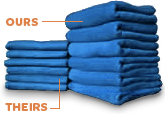 Because we're the factory-direct manufacturer, you're assured of both the best price and superior quality. Our deluxe, super soft, anti-pill fleece is made to our own exacting specifications. Making premium blankets is all we do!
Factory-Direct Fleece Blankets
Fleece Blankets are warm and cozy. They are also practical because they are thermal, lightweight, and fast-drying. The only thing better than purchasing a fleece blanket is buying Bulk Blankets directly from the manufacturer at NorthEast Fleece Company. Here, you will not only get access to products at wholesale pricing, but can also count on the high quality our name stands for. In fact NE Fleece guarantees you won't be able to find better quality fleece blankets at a lower price. Throw blankets, baby blankets, coral blankets, and scarves are among some of the items available. Waterproof picnic blankets that fold up and have carry straps are also an option.
These Fleece Blankets are made to our own exacting specifications and are designed to be anti-pill, and premium quality. Two new lines of luxurious Fleece Blankets have recently been added to our product line. The Mink Touch fleece line is the softest fleece yet and is available in throws, baby blankets, robes, and queen size blankets. The Micro Mink Sherpa fleece is a thick, luxurious fleece. All items can be purchased as a single item, or in bulk. The only exception is the relief cot blankets, which are sold by the case.
Customization is available on all orders of 48 or more. Embroidered Blankets, or blankets with laser etching, where you can display your company logo, lettering, or an emblem. There are hundreds of colors from which to choose, and up to six colors can be selected at no additional cost. Personalized items are great for corporate gifts, schools, sports teams, volunteer appreciation, and community events.
"Fleece for Peace" is the donation program for disaster relief. Bulk fleece throws, Cot blankets, economy throws, and rescue relief blankets have been donated to comfort and warm people recovering from crisis and disaster worldwide. Charity organizations, such as the Red Cross, the National Guard, and many shelters and churches receive blankets at 25% off the bulk price.